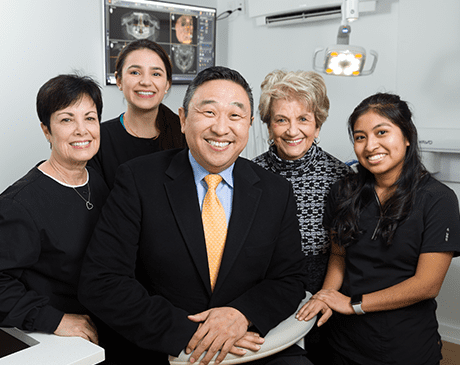 A Beautiful Smile Dentistry
A Beautiful Smile Dentistry treats you like a cherished member of our family from the minute you walk through the door. Once inside our conveniently located office in Fort Lee, New Jersey, you can relax knowing your oral health and well-being are in the right hands. While there, our caring team aims to make your dental experience the best it can be.
A Beautiful Smile Dentistry strives to spend as much time one-on-one with you to give you the best care possible. Whether you have questions about your oral health or are interested in exploring a smile makeover, you will get the answers you deserve. Our top-notch dental team is dedicated to educating every patients like you. We take the time to explain and describe in detail your dental procedures and carefully walk you through your treatment options so you will feel confident you are making the ultimate right choice.
Our dental team is here to treat every individual patient with the utmost value care and concern. Dr. David Jin, DDS, award-winning practitioner of general and cosmetic dentistry, takes great pride in welcoming you to our family practice by providing a complete selection of advanced dental care and treatments with up-to-date technologies.
Our office is equipped to provide 24/7 access in case of dental emergencies: 201-956-5600. Feel free to leave a voicemail or text and someone will get back to you as soon as possible.
Our Promise and Pledge at ABS Dentistry Is To Offer The Best Personalized Dental Care and Services.
🦷 Professional Care and Quality Services is ensured by
🦷 Providing a safe and hygenic environment in a family forward atmosphere
🦷 Using the best dental materials and techniques available
🦷 Presenting the best treatment options available
🦷 Listening to and respecting the patient's decisions
🦷 Helping patients in choosing the best course of treatment
🦷 Making efficient use of the patient's time
🦷 Practicing gentle dentistry that provides comfort for all
🦷 To meet and then exceed your expectations
Our Mission Statement : A top-notch dental team to provide gentle hands with excellent dental care and outstanding customer satisfaction. We will support this by creating a harmonious working environment that is pleasant for both our external and internal customers. We will support one another and support our doctors in building excellent relationships a beautiful smile at a time.
OPENING HOURS
Monday: 8:00 am - 5:00 pm
Tuesday: 8:00 am - 6:00 pm
Wednesday: By Appointment
Thursday: 8:00 am - 6:00 pm
Friday: 8:00 am - 3:00 pm
Saturday: By Appointment
Sunday: Closed
Contact Information