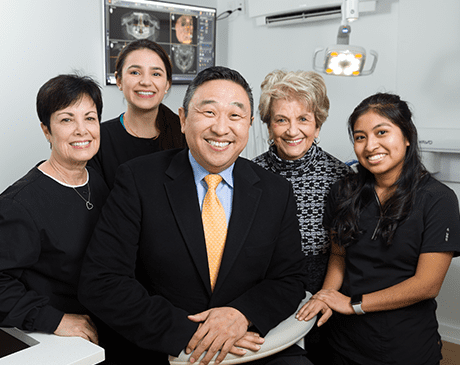 A Beautiful Smile Dentistry
A Beautiful Smile Dentistry treats you like a cherished member of our family from the minute you walk through the door. Once inside our conveniently located office in Fort Lee, New Jersey, you can relax knowing your oral health and well-being are in the right hands. While there, the caring team aims to make your dental experience the best it can be.
A Beautiful Smile Dentistry strives to spend as much time with you to give you the best care possible. Whether you have questions about your oral health or are interested in exploring a smile makeover, you get the answers you deserve. This top-notch dental team is dedicated to educating patients like you. They take the time to describe and explain dental procedures and carefully walk you through your options so you feel confident you're making the right choice.
Our dental team treats every patient with the utmost value and concern. An award-winner practitioner of general and cosmetic dentistry, David Jin, DDS, takes pride in providing you with a complete selection of advanced dental care treatments.
With an office equipped with the latest dental technology, Dr. Jin is available around the clock to address nearly any dental concern or emergency. Don't worry about bothering him: Remember, you're a part of the family at A Beautiful Smile Dentistry.
Our Promise To Patients: To offer the best personalized dental care to all our patients.
We will ensure quality service by:
Providing a safe and friendly environment
Using the best dental materials and techniques available
Making efficient use of patient's time
Presenting best treatment options available
Listening to and respecting patient's decisions
Practicing gentle dentistry that provides comfort for all patients
To allow our doctors and staff to experience personal and professional growth and fulfillment
To meet, then exceed your expectations.
Our Mission Statement : A top-notch dental team to provide gentle hands with excellent dental care and outstanding customer satisfaction. We will support this by creating a harmonious working environment that is pleasant for both our external and internal customers. We will support one another and support our doctors in building excellent relationships a beautiful smile at a time.
Our Motto: To provide best services and products that are simple, safe, and state of art, and in the long run, it is the most economical approach to ultimate dental health care.
OPENING HOURS
Monday: 8:00 am - 5:00 pm
Tuesday: 8:00 am - 6:00 pm
Wednesday: By Appointment
Thursday: 8:00 am - 6:00 pm
Friday: 8:00 am - 3:00 pm
Saturday: By Appointment
Sunday: Closed
Contact Information